Honda Valkyrie

Rick's Honda Valkyrie Tourer
Just a list of a few items that are on the Honda Valkyrie.
Custom World, Fork Bullets

Cobra Driver Floor Board Brackets with Custom World Solid Rubber Top Floorboards

Baker Air Wings

HondaLine, Engine Hanger Covers

HondaLine, Bag Rails

Mark T, Mild to Wild Glasspacks

Stainless Neck Covers (Wayne's World)

Stainless Carb Covers (Wayne's World)

Stainless Side Covers (Wayne's World)

Dragon Backrest Insert (Wayne's World)

Universal Vista Cruise

J&M Windshield Tri Pouch

Chrome Oil filler cap & Oil dip stick

Turn Signal Grills & Visors

Cobra Light Bar, Custom World Eye Accents

Big Bike Parts, Brake Pedal Cover

Rattlebars, Fork Filler

Rattlebars, Kick Shifter

Garmin GPS, Zumo 550, RAM Mounting

Rivco Hidden Air Horns
Valkyrie is Black with Lightning Bolts, clouded with Teal and Purple.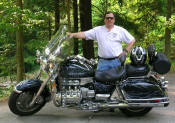 Letchworth State Park, NY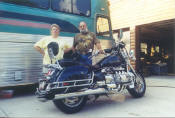 Teresa (My lucky Wife) & Mountain Man (Mike Lamborne), Centerville,WV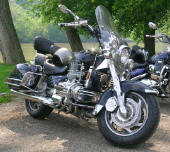 Southern Ohio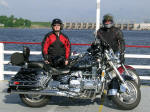 Teresa & Ken From Custom World, Quebec Canada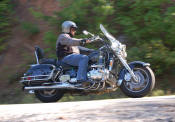 Deals Gap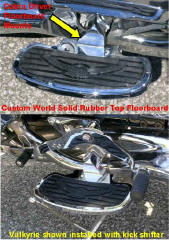 Cobra Driver Floorboard Mounts using CustomWorld Deluxe Passenger Floorboards
********************************************
The pictures below are of my Honda Valkyrie that I had for 3 years and was totaled on July 26th 2002. I purchased another Valkyrie Tourer (all black, shown above) and built it even better then the last one. Below is a short description of what happened in the accident. I hope that at least one person will read this and decides to wear safety equipment.
Teresa and I were riding to Zanesville Ohio from the Honda Homecoming. We were going down a slight hill (on Ohio route 37) and around a slight right curve. There was brush and trees very close to the road. In an instant there was a deer in the road in front of me. I never had time to come off the throttle and hit it pretty much head on. The deer was quite large about 180 lbs or so. The impact is quite sever hitting something that large going 55 mph. The bike went down and I got away from the bike pretty clean. I skidded about 75 feet head first on my back. I flipped a couple of times when I hit dryer pavement. The bike skidded 150 feet and bounced around pretty good a few times before stopping. The deer was dead instantly.
I had an HJC 3/4 Helmet on. There were gouges all the way from the top front to the back bottom left on the helmet. The helmet was ground into the pavement. I also had a Joe Rocket Phoenix jacket on. I had virtually no scratches on my arms or back. The padding in the jacket took a lot of the impact. The fingerless leather gloves might not have been a good idea. I had thick jeans on which were ripped in a couple of places. Missing only a little skin on my legs. Boots also only got a little messed up. I was very sore, but not in the hospital or worse. So, is it worth wearing safety equipment? Yes, the outcome would have been way different.
Teresa was only 2 seconds behind me on her Honda 1100 Sabre. I am very lucky that she is an experienced rider. It was difficult to miss everything in the road while trying to stop. I think that she was way more upset then me. Another good reason to take motorcycle safety courses and always make sure that you are capable of handling the bike in extreme conditions. She did ride the Sabre back to Delaware, Ohio when the Valkyrie was being towed. Our Custom Valkyrie had a huge amount of damage and was totaled, but it was replaced. You always think and hope that it won't happen to you. Something to keep in mind once in a while.
Normal business hours 9Am - 5PM