Chatterbox Frequently Asked Questions: Chatterbox GMRS X1 Slim
Chatterbox Frequently Asked Questions:
What is the real difference between the FRS X2 and GMRS X1 and the new X1 Slim?
The best rating on the X2 is up to 2 miles where the X1 and X1 Slim is up to 5 miles. Your actual range will vary with conditions. Use channels 8-15 for greatest range.
The X1 Slim is significantly smaller and lighter then the older X2 and X1 Radio's.
Shown below the older X1 Bluetooth compared to an X1 Slim.

What is the real difference between the GMRS X1 Bluetooth / Slim and GMRS X1?
The X1 Bluetooth is an improved version of the Standard X1. The X1 Slim is smaller and adds an FM Radio as well. The X1 Bluetooth / Slim allows pairing of 2 Bluetooth input devices at the same time (cell phone, audio, GPS, etc.). If using the radio on your helmet, the radio will have no wires hooked to it. If using the radio remotely, you will only have a headset ext. cord hooked to your helmet. This will make life a lot easier and simpler.
The X1 Bluetooth / Slim has 22 channels, where the standard X1 has 15, both have 38 sub channels per channel.
Does the FM Radio work well?
Can I use the X1 Slim as an Intercom?
Can my passenger hear everyone on the channel?
Yes there is open or private intercom. The passenger can also hear the audio except phone. Just talk like normal with the push to talk or using VOX, both people that are plugged into the radio will hear all conversations and each other on the channel. The Audio will automatically cut out whenever either person speaks or someone else talks on your channel.
Private intercom works the same, with the exception that you are not transmitting.
What do I need for my Passenger?
You just need to purchase a Universal Noise Reducing Headset and Extension Cords for the passenger.
What type of headset do I need?
What does it take to install the headsets in my helmet?
The X1 Slim Universal Multi-Headset comes with both Open and Full Face Microphones. Choose the one that you intend to use and plug it into the connector on the headset.
The Headsets and Mic's install very easily. The full face Mic's mount onto your chin bar using velcro on the inside of your helmet. The speakers velcro inside your helmet. The wires will tuck between the headliner and shell of your helmet. The radio will then mount on the clam shell bracket (if used on the helmet).
Most helmets have cut-outs for speakers, the speakers will fit in there perfectly. If your helmet has a lining and no cut-outs in the lining, you will probably want to carefully cut the lining and glue it to the inside shell of the helmet. Just about all helmets have cut-outs but may be covered up by the lining.
Carefully run the headset wires inside your helmet, pushing them between the liner and the helmet with the stick that is provided. This will take a few minutes to do a nice neat job.
The

Chatterbox X1 Slim 3.5mm Headset Adapter is used If you want to use your own speakers or Ear Buds with an X1 SLIM. Use this 3.5mm Headset Adapter also is you want to use a Half Helmet.
How fast can I go and still use the VOX?
That depends on your bike, type of pipes you have, how large or if you have a windshield and type of helmet. Proper use of the mic's is very important and using the push to talk button on the highway is very handy.
Using the VOX will take some practice, holding out first and last words slightly. Wind Socks do help and make a difference in faster, windier conditions. We have found that Wind Socks even on the Open Face Noise Reducing Mic's help clarity while at faster highway speeds.
Can I have the VOX set to normal levels and still use the Push To Talk?
Yes the Push to Talk overrides the VOX. A lot of times the passengers even operate the push to talk. You can use the push to talk button on the radio or use the remote push to talk button.
When only using Push To Talk, set the VOX at the lowest level.
The remote Push to Talk Button is velcro mounted onto the left handle bar grip and then plugged into the cord (standard with the kits). We permanently mount the cables, routing them to the radio locations. You can route them under the gas tanks, etc., hiding and tie wrapping the cables to make a finished look. You can pull the cables out from under your seat, handlebars, or wherever to plug into your radio when needed.
Do I have to mount the Radios on my helmet?
No, the X1 Slim Radio can be taken off your helmet by using an X1 Slim Headset Extension Cord. The X1 Slim Headset will be left in your helmet and the X1 Slim Ext. Cord will then be plugged into your radio. Your X1 Slim Radio at that point can be put on your handlebars using a RAM Mount, tank bag or placed somewhere different with industrial velcro.
We use these radio's ourselves remote mounted with a RAM Mount on our handlebars.
If you desire to connect a passenger intercom from this mounting position:
Install a X1 Slim Headset Extension Cord from the handlebar location to somewhere in the back where a passenger can plug another Slim Headset Extension Cord into it.

Tie Wrap the Slim Headset Extension Cord to your frame, under the gas tank, etc. concealing the cord as best as possible. This will make a nice neat job. The Chatterbox coiled cords can be stretched quite a long way. You can even use heat shrink over any part of it if you are concerned about protecting the cable. Try and keep the cord away from your ignition.
We have X1 Slim Ram Handlebar Mount kits available for chatterbox X1 Slim Radios.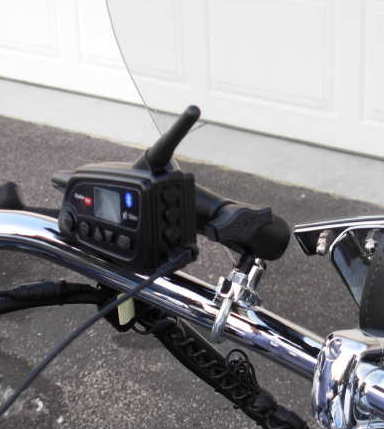 Are the Radios Water Proof?
The radios are water resistant, not waterproof. We do not recommend using the radios on your helmet in the rain. The LCD displays may fog up and the radios might be effected. We recommend using a headset ext. cord and at least placing your radio in your pocket when it rains. If you do forget and get your radios wet, see instructions on the bottom of this page.
If using the X1 Slim Radio on your handlebars behind a windshield, you will find the radio is well protected and you will not have to worry about rain to much.
The GMRS X1 Slim comes with a rechargeable Li-Ion Battery and will go about 8 hours of constant use (talking), longer if mostly using just audio.
Using an available USB Power Cord for Universal Applications & Chatterbox X1 Slim / DUO

on your bike will greatly increase the usability of your radio on trips. The USB Power Cord for Universal Applications basically adds a 5 VDC USB power port onto your bike.

We have other USB Power Ports available for use with these radios.
The USB Power Adapter cord that came with your radio kit will be used to connect the Radio into the USB Power Cord. You can charge your X1 Slim (plug it in) while stopped, or while riding. The X1 Slim will fully charge in an hour or less so you can easily just plug the Radio in while stopped, eating or taking a break. The second jack down on the end of the radio is for either plugging in the USB Power Cord or Push to Talk Cable.
It is a good idea if in groups for at least one person to have a

USB Power Outlet

installed. Someone always seems to forget to either charge their radio or leaves their AC charger at Home.
For our own bikes, we make a wiring harness combining the USB Power Adapter Cord, Audio Cord and Push To Talk Cord all in one. You then need to just pull the harness out and plug the ends into the appropriate plugs on the radio. The USB Power Cord and Push to Talk Cable both plug into the same jack on the radio so you can only use one of these at a time. We usually just plug the USB Power Adapter Cable in when stopped.
The X1 Slim permits pairing one Hands Free Device and one Audio. An example of a Hands Free Device is a Cell Phone. Allows you to listen to music, hear voice prompted directions and answer your phone.
The Audio automatically cuts out when you talk or someone else on your channel talks. The Audio automatically comes back when you are finished talking. Just about any type of MP3/iPods and any type of Bluetooth devise work well along with the X1 Slim. Our experience has been that some of the older MP3/CD wired players may pick up engine noise, depending on where you put them. Changing the location of your MP3 player, in a lot of cases that will take care of that.
You might in some cases with older audio units get engine noise if you plug both your chatterbox and MP3 player into the 12 Volt power on your bike. Unplug one of them, the noise will go away. Not all MP3 players and Audio Sources are susceptible to this.
We do recommend using a Chatterbox Audio Cord. There is a physical difference between the Chatterbox Audio Cord and a regular Audio Cord. The Chatterbox audio cord is a "coiled" type cord, compared to straight audio cords available from electronics stores. These cords work much better because of the 90 degree angle on the plug. You also will not have a long cord hanging all over. There is also a safety concern with using any type of straight cord which could get caught in your motorcycle or any moving parts, etc.
For best performance, set your radio volume at a normal level for talking. Use your variable volume control on the Audio input device to control audio volume.
The X1 Slim Bluetooth allows pairing of 2 Bluetooth input devices at the same time (cell phone, audio, GPS, etc.), without the use of any wires.
Right now I use a Zumo 660 GPS for Audio, works great for wired and Bluetooth. Other MP3 players are available that use SD cards and work very well. You will want to use an audio source or even phone that has a variable audio output. You can put literally thousands of songs on the 15 Gig Drive.
You will want to set the X1 Slim Audio Volume for voice and then use your audio source for controlling the Music volume from there.
If you only want to listen to Audio and don't really have a need for a Radio System or Intercom then the Stereo Helmet Headset is what you want. This is a Stereo Headset only with speakers and without a Mic. There is a connector on the headset for your audio input.
Other MP3 / Jukebox players / IPods / GPS's are also available that use a SD card.or have small hard drives anywhere from 2 to 20 GIG. We have DC adaptors available.
Can I use my cell phone with the X1 Slim Radios?
Yes with the GMRS X1 Slim Bluetooth Radio, you can just pair your Bluetooth phone without the use of any wires. Works great. Note: passenger can not hear phone conversations.
Are there any other Wireless Options?
The Chatterbox XBi2 and DUO wireless Bluetooth is available if you would like full wireless intercom only or for bike to bike (up to 500 Meters).
What about Channel compatibility?
It is usually better to turn the radios on after you plug the Push To Talk Cable in. If you forget and plug the push to talk in and find that it does not work, just turn the radio off and back on. Most of the time the radio needs to see the cable plugged in when it starts up.
If you do get caught in a heavy rain just put the radio in your pocket and use a Headset Ext. Cord. Usually using behind a windshield on a RAM Mount is not a problem in the rain.
If you forget to charge your radio and your battery goes low you can charge using your USB Power Adapter Cord along with a USB Power Outlet as you ride. Just leave the radio on, you can listen just don't transmit for several minutes. This will give the battery enough time to get ahead a little. The charge time is fairly short and you will fully charge in no time at all.
Make sure you are speaking into the front side of the Mic. (white dot on the arm facing you). If you are speaking into the back of the mic. it will sound like you are far away to everyone else.
All Radio Kits and most Accessories are at Chatterbox Minimum Advertised Pricing Levels. Free Shipping for all Radio Kits, (continental U.S.)
Call for Group Purchases.

If you can think of anything else that might be of interest or helpful let me know. I have spent a lot of time using the radio's and have written up answers to the most frequently asked questions that we get.
This page is intended for personal, non commercial use by our customers or anyone needing information on the products that we sell.
No reproduction of this page for commercial use is allowed without written permission.
Rick,
Value-Accessories
Give us a Phone Call for questions or to place a phone order. C

440-259-4793
toll free 888-532-0166
Sign up for our Mailing List to receive weekly and monthly specials, along with previews of new products and releases.
Copyright © 2002 - 20012 Value-Accessories